Nobel 1.0A SLA
3D Printer
Affordable High-Performance Printer
The Nobel 1.0A 3D printer is XYZprinting's advanced SLA 3D printer that combines professional-quality prints with affordability. The Nobel 1.0A uses stereolithography (SL) technology, guaranteeing the user exceptional print quality every single time. It is a superior printer with advanced technology that offers a more efficient and precise printing experience and unmatchable print quality.
A professional-grade 3D printer, the Nobel 1.0A has a print resolution of 25 microns and can be used for projects that require a greater degree of accuracy. This SLA printer uses an ultra-violet laser to cure the photopolymer resin and produces higher resolution for objects with complex geometries. It is simple and easy to use, making it the printer of choice for beginners and professionals alike.

Upgraded model with improved laser point precision of 130 microns, higher resolution and improved printing performance;
Produce a more accurate X/Y axis resolution than its predecessor, 130 microns as against 300 microns.

Easy-to-use plug and play 3D printer. It requires no assembly or equipment adjustment to operate.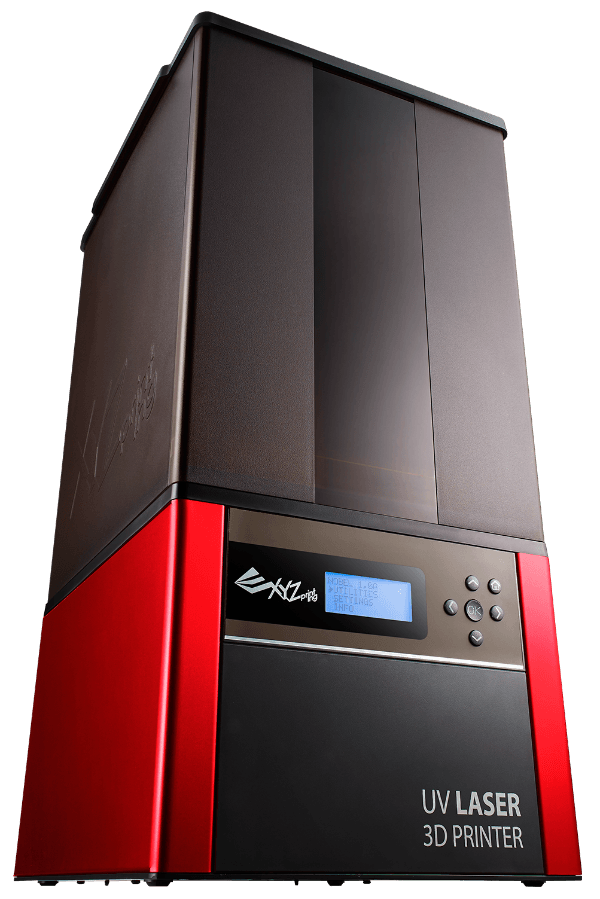 Comes bundled with proprietary XYZware software that has the capability of adding support structures to the model whenever necessary
The software monitors the entire printing process and requires no manual operations.

The 3D printer has an impressive auto-refill system that makes the printing process easy and hassle-free. The auto-refill system checks resin levels and tops up the resin tank as and when it is required, ensuring an uncomplicated and effortless experience.
Key Benefits & Applications
The Nobel 1.0A 3D printer has the advantage of being the most affordable professional-grade desktop SLA 3D printer in the market today. The quality and the accuracy of the prints are outstanding, making them one of the most cost-effective models in the market. The printer uses photopolymer resin to create the prints. Multi-coloured acrylic, flexible resin, and castable resins can be used in this versatile printer.
Since it works on the more advanced stereolithography technology, it offers several advantages over the more traditional FFF printers. SLA 3D printers can be used to print objects of greater complexities and intricacies with a much better finish. They can also be used to print floating parts designs that would otherwise need printed supports, which results in a cleaner finish.
The Nobel 1.0A 3D printer is perfect for printing intricate projects that require high resolution. The research team at XYZprinting has developed several resin materials that are compatible with this printer, making it a very versatile printer suited for a multitude of applications. It can be used very effectively in prototyping and jewellery making.
Buy XYZprinting's Nobel 1.0A SLA Printer. For affordable, super-precise 3D printing
Printer Usage & Operation
A user-friendly machine from the XYZprinting stable of products, the Nobel 1.0A is a plug and play printer that is extremely easy to set up and operate. Its X/Y axis resolution is 0.13mm and its Z-axis resolution up to 0.025mm. A large printer, the Nobel 1.0A allows a maximum build size of 5" x 5" x 7.9", which is about 25% larger than any typical desktop SL 3D printer in the market. The 3D printer comes with a starter pack that includes an additional resin tank and two extra packs of resin.
The printer also comes bundled with the advanced XYZware software, which can analyse the model and add support structures wherever necessary.
See video for first time printing with the XYZprinting Nobel 1.0A SL printer
Technical Specifications
Technology:
 SL (Stereolithography)
SLA 3D Printers in Singapore
The 3D printing industry has seen major technological advances in the past few years that have made these printers affordable and easily available. This region has also seen initiatives such as the on-demand 3D printing facility by UPS and Fast Radius that will custom-make items ordered by customers online and delivered by UPS.
SLA 3D Printers have brought 3D printing to enhanced levels by delivering professional-grade and intricate prints. Choose 3D Bots if you are looking for high-quality SLA based 3D Printers.
Contact us for a FREE demo of the XYZprinting Nobel 1.0A SLA printer or other similar 3D printing machines.
Contact us for a FREE demo of the XYZprinting Nobel 1.0A SLA Printer or other similar 3D printing machines.