XYZprinting Singapore
Affordable, easy to use, multi-purpose range of products
XYZprinting is a well-established name in the global 3D printing and 3D scanner market.  The company has emerged as a frontrunner in a short but highly successful span of three years.  Via its well established business network in China, Japan, Europe and the United States, it has enhanced multiple business and personal printing experiences in all areas of life and work.  Today, XYZprinting is synonymous with innovation and a superior user experience.
Taiwan based electronic manufacturing comglomerate Kinpo Group backs XYZprinting with 15 years of industry expertise.  A team of 8, 500 engineers operates in Kinpo's advanced 'think tank' to create world renowned printer technology in the personal and commercial space.
Signature products such as the da Vinci Junior, the Nobel 1.0 stereolithography (SLA) 3D printer, the da Vinci 3D pen and Da Vinci 1.0 Pro open filament system 3D printer are apt indications of XYZ Printing's expertise and the future of 3D printing and scanning.
XYZprinting Product Line & Technology
XYZprinting's wide and constantly evolving product range currently hold offerings that can be utilized in Sports & Recreation, Education, Architecture, Consumer products and more.  Its product portfolio consists of printing machines using FDM and SLA technologies.  Its product range includes –
Beginner Range
da Vinci Mini, da Vinci Jr. 1,0, da Vinci 3D pen, etc
Plus Range
da Vinci 1.0 AiO (with in-built scanner) and the da Vinci 2.0 Duo (with dual nozzle print head for print vibrancy)
Apart from its advanced product stable, its products are among the top owing to vital features such as biodegradability, safety, consumer friendliness and affordability.
Key Differentiators for XYZprinting
SOLIDWORKS Integration
A technology partnership with Dassault Systèmes SOLIDWORKS has eliminated the tedious steps in the design to print processes such as compatibility, conversion, scaling, and re-orienting.  It has helped integrate the SOLIDWORKS software with XYZprinting hardware.  That means one can design using SOLIDWORKS and directly print to their XYZ printer. The specially integrated software intentioned for XYZprinting, makes it an obvious preference for all levels of printing jobs.
Compatible Filaments
XYZprinting's open source filament feature allows one to use 3rd party filaments with most its 3D Printer range. Wider accessibility and affordability are the direct results of these key features.
Awards & Recognition
An impressive string of industry accolades decorate XYZprinting's mantle.  These include –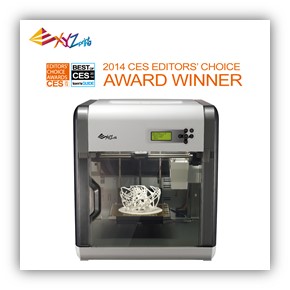 CES Award
2014 & 2015 CES Editors Choice Awards
SXSW Innovation Award
Finalist in the Innovative 3DIY category of the 2015 SXSW Interactive Innovation awards
Other Accolades
The Digital Trends Top Tech of CES award, TWICE Picks Award, PC Magazine Best of CES, COMPUTEX Taipei Best Choice and Tech & Learning Best of ISTE were presented to the company in 2015
XYZprinting in Singapore
The Singapore 3D printing sector is a rapidly booming one making the city island the ideal Far Eastern capital of additive printing. The presence of XYZprinting products in the local market via 3D Bots has occurred at the proper time.
The Singapore National Research Foundation's launched a Centre of Excellence dedicated to this industry. The initial 42 million dollar commitment towards R&D in the area of 3D printing technologies aims at advanced innovation, manufacturing, safety and engineering functions. Hence, 3D printing is revolutionizing industries across Singapore's R&D, Services, Manufacturing, Healthcare and other sectors.
Contact 3D Bots today for a demo of XYZprinting products and guidance regarding your 3D printing needs
Contact 3D Bots today for a demo of XYZprinting products and guidance regarding your 3D printing needs