Builder Extreme 1500 PRO HC
With a build volume of 1100x500x820 mm, the Extreme 1500 PRO Heated Chamber is a fully closed industrial 3D printer made to print large and full scale parts such as molds, tooling and end-use parts.
The heated chamber makes it the ideal large format machine for 3D printing industrial applications as the printed materials are heat resistance and extremely strong. The newly developed print head is water cooled and easy to use. The different nozzle diameters allow the user to optimize the print quality and speed for their specific project.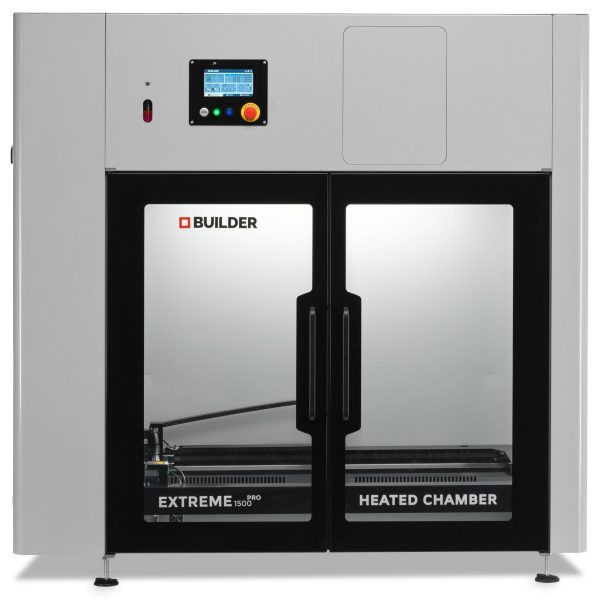 The Unique Features of the Builder Extreme 1500 PRO HC
Heated Chamber
For superb print quality, less warping when printing bigger objects and for better adhesion the Extreme 1500 PRO HC has a temperature controlled heated build chamber. The heated chamber can heat up to 70 degrees. The machine is fully insulated to make sure no heat is lost during the printing process.
Heated bed up to 100 degrees
For strong adhesion and less warping the Extreme 1500 PRO HC has a heated bed that can reach up to 100 degrees. The aluminum build plate make sure the heat is equally divided over the print bed.
Water cooled print head
The print head of the Extreme 1500 PRO HC can reach a maximum temperature of 300 degrees. To keep the print head in good condition, including the extruder motors, the print head is water cooled.
Different nozzle diameters
The water cooled print head comes with 3 different nozzle diameters, 0.4, 0.6 and 0.8 mm. With the different nozzle diameters, which can easily be swapped, engineers and designers can optimize the print results and printing time for their specific object.
BOFA air filter
Health and safety are key in a work environment, that is why the Extreme 1500 PRO HC is fully prepared for a BOFA air filter system. The air filter will automatically switch on when the print is done.
Contact us for more info on Builder 3D printers, our experts are always happy to help
Contact us for more info on Builder 3D printers, our experts are always happy to help