da Vinci 1.0 Pro
3D Printer
Versatility at its best
The da Vinci 1.0 Pro is the first open-source filament 3D printer from XYZprinting. It has several unique features like an aluminium print bed, adjustable heat settings for the nozzle, and an auto-loading filament system. The printer uses FFF print technology and is great for prototyping and product development.
This FDM 3D printer can print parts with excellent mechanical, thermal, and chemical properties. FDM is the technology of choice in today's commercial 3D printing scenario, and the da Vinci 1.0 Pro 3D printer can be used to build objects both simple and with complex geometries. This 3D printer is very versatile and offers different types of finishing quality at an unbeatable price.

Filament system that auto-loads correctly before use; Adjustable temperature settings for the extruder nozzle. Compatible with third-party 1.75mm filaments

The aluminium print bed distributes heat evenly and reduces print warpage. Bundled with software to adjust speed, print support and retraction. The retraction settings help print objects without any streaking or smudges – ensuring perfect prints every time

Easy to use Calibration System
The da Vinci Pro's intuitive calibration system uses specially designed knobs and detection software for a hassle-free experience.

The da Vinci Pro comes with in-built Wi-Fi connectivity, making it possible to print wirelessly from your Windows or Mac computer or the XYZ app.

Use the add-on laser engraver to etch your designs on your creations. The engraver can be used on materials such as wood, leather, and cardboard, making it a brilliant value-add.
Key Benefits & Applications
Da Vinci Pro uses the FFF (fused filament fabrication) technology and has numerous applications, like rapid prototyping, architectural scale models, in healthcare and entertainment. This printer is perfect for the hobbyist maker as well as the professional with large printing projects. It also boasts of an optional Laser Engraver that adds to its repertoire of printing applications.
The Da Vinci Pro lets you use open source filament, which translates to great savings since XYZ's proprietary filament is more expensive than standard third party filament. The printer's Wi-Fi system is very easy to set up. The autoload function coupled with the easy calibration system makes this printer extremely popular among beginners and professionals alike.
See video on the Laser Engraving done with the da Vinci Pro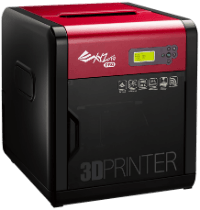 XYZprinting's da Vinci 1.0 Pro 3D Printer. Buy a professional-quality 3D printing experience.
Printer Usage & Operation
The Da Vinci Pro 3D printer comes bundled with proprietary XYZware Pro software that is easy to use and install. It is compatible with Windows and Mac OSX and lets the user adjust multiple settings such as speed, print support and retraction.
The unique aluminium bed disperses heat evenly and is better than the commonly used glass print bed because it reduces the chance of warping and smudging. It is simple to use; just cover the bed with masking tape, and the prints stick to the print bed quite easily.
The printer has a single 0.4mm nozzle and uses 1.75mm ABS and PLA filaments. The da Vinci 1.0 Pro has home Wi-Fi connectivity and it allows the user to wirelessly send print jobs from anywhere in the network by using Windows and Mac computers, as well as the XYZ gallery app available on Android devices.
Watch this video to see the ease of first time printing with the XYZprinting da Vinci Pro 3D printer
Technical Specifications
Product: 18.4 x 20 x 22 inch (46.8 x 51 x 55.8 cm)
Package Dimension: 22.1 x 23.3 x 27.6 inch (56 x 59 x 70 cm)
Maximum Build Volume (WxDxH): 7.8H x 7.8W x 7.8D inch (20x20x20cm)
Gross Weight: 57.4 lb (26kg)
Technology: FFF (Fused Filament Fabrication)
Display: Panel Type – 2.6" FSTN LCM
Resolution: Fine 0.1 mm (100 microns)
                     Standard 0.2 mm (200 microns)
                     Speed 0.3 mm (300 microns)
                     Ultra Fast 0.4 mm (400 microns)
Language: Multi Language
Connectivity: USB 2.0/ WIFI
.
Software: XYZware for PRO
Print Head: Single Nozzle
Nozzle Diameter: 0.4mm
 
Filament Diameter: 1.75mm
File Type: .stl , XYZ Format

OS Support: Win 7 and above / Mac OSX 10.8 and above.
Filament Material: ABS / PLA
Hardware: Hardware Requirements (for PC/Mac)
X86 32/64-bit compatible PCs with 4GB+ DRAM (for PC)
X86 64-bit compatible Macs with 4GB+ DRAM (for Mac)
Laser Engraving:
Maximum Build Volume: 20 cm x20 cm
Output Power: 350mW ± 10%
Wavelength: 450nm+5nm/-10nm InGaN
File Types: JPG / PNG / GIF / BMP
da Vinci Pro in Singapore & Malaysia
The additive manufacturing market has huge potential in Singapore due to its versatility and its ability to lend itself to a myriad of applications. The government of Singapore has identified 3D printing as one of the key growth sectors under the $500 million 'Future of Manufacturing' scheme. The National Research Foundation in Singapore has recently earmarked $42 million to set up a 3D printing centre.
The availability of low-cost, high-quality 3D printers such as the da Vinci Pro in the Singapore market is indicative of the bright future for the industry in the country. 3D Bots prides itself on bringing such machines to the local market along with onsite support.
Contact us for a free demo of the XYZprinting da Vinci Pro or other similar 3D printing machines.
Contact us for a free demo of the XYZprinting da Vinci Pro or other similar 3D printing machines.