Envision ONE Dental Advantages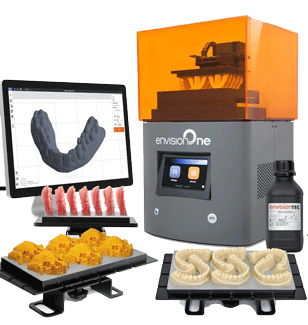 This system is perfect for 3D printing orthodontic applications, full dentures and other dental applications. The Envision One cDLM is capable of printing six orthodontic arch models in under 15 minutes.
Large build envelope of 180x101x85 mm
Build speed up to 80 mm/hour
High XY resolution of 93 µm thanks to an industrial projector with UV glass
Domeless technology delivers the highest accuracy in Z
75% less supports compared to regular DLP printers
LED light source at 385nm for higher accuracy and crisper details across all parts
Dual linear slides provide superior stability during the build process, eliminating any shifting in parts
By using cDLM technology, solid parts can be built because the technology eliminates any separation forces. 
You can also have a large build envelope and build multiple parts horizontally with flat surfaces at 4x faster than standard DLP printers and 10x faster than desktop SLA systems
The largest upside-down cDLM technology build platform at the fastest speed available in the industry at a very affordable price. 
With a focus on fast, accurate and large-scale additive manufacturing capability, the Envision One cDLM Dental is designed to take you from beginner to expert in a single machine. This 3D printer has an integrated 385nm wavelength with a carefully adjusted LED light source for precise accuracy. The shorter wavelength reduces the bouncing of light and renders perfect details to the object. Envision One cDLM delivers accurate 3D parts every time with minimum supports and at an incredible speed.
Interested in learning more about EnvisionTEC 3D Printers?
Interested in learning more about EnvisionTEC 3D Printers?