Industrial 3D Printers
Factories of the future
Industrial 3D printing is fast gaining popularity and industry watchers opine that it will soon become indispensable. Additive manufacturing may not replace traditional manufacturing, but will surely complement it in several sectors. The 3D printing market has grown by about 30% year-over-year, and it is set to triple in revenue over the next four years.
Industrial grade 3D printers differ from consumer grade printers because of its ability to create industrial-quality, fully functional, end-use parts. These commercial printers have large capacities and can deliver objects with greater resolution, strength and durability. They can print with a multitude of extremely durable materials such as metal, carbon fibre, high-temperature filaments
Commercial 3D printers run on different technologies such as fused deposition modelling (FDM), stereolithography (SLA), selective laser sintering (SLS), polyjet printing to name a few. While choosing a commercial printer, your decision should be based on what you will be printing, and what material is best suited for that application.
Applications of Industrial 3D printers
The versatility and functionality offered by additive manufacturing opens the door to countless applications. Industries such as automotive, healthcare, aerospace, food, and jewellery have been early adopters.
Automotive
3D Printed car parts are already being used in manufacturing and car frames and will follow soon. Companies like Bentley use 3D printing to manufacture small, complex parts for their cars.
Aerospace
Companies like GE, Airbus, Boeing, and BAE Systems are raising the bar on manufacturing technologies and processes by producing complex and high-strength parts using industrial grade print machines.
Healthcare
3D printing is already being extensively used for healthcare purposes. Hearing aids, jaw transplants, dental and orthodontic models, hip implants etc. are already being manufactured on 3D printers.
Jewellery
Jewellers are adopting 3D printers to create wax or resin moulds that are used to cast precious metal to create beautiful designs that would otherwise be impossible to create by traditional methods.
Our Product Portfolio
3D Bots brings these 3D printers in the industrial 3D printing space –
Mark Two
Prints with range materials like Carbon Fiber, Fiberglass and Kevlar
Produces reinforced objects that are as strong as Aluminium
Touchscreen interface with easy to use browser based Eiger Software
Industrial strength parts with high quality finish for aerospace, automotive, biotechnology and healthcare segments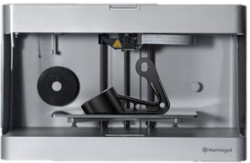 Onyx Series
Entry-level, affordable industrial printer from MarkForged
Prints with Onyx filament – a combination of nylon and chopped carbon fibre
Provides an output with twice the strength and stiffness of thermoplastic filaments, temperature resistant up to 145°C
Perfect for creating ready to use functional parts, components and prototypes
BigRep TECH
Prints with technical plastics as well as standard thermoplastics
Precisely heated and controlled build environment
High-performance print head for engineering-grade materials
Large integrated 10″ graphical touchscreen user interface
Commercial 3D Printing in the region
Singapore is one of the early adopters of 3D printing in South East Asia. Additive manufacturing is very relevant for countries like Singapore with expensive manpower and a sluggish manufacturing sector. By moving to 3D printing, manufacturers can improve quality through more design freedom, better stability and enhanced ergonomics.
Industrial grade 3D printing in Singapore is on the rise; the Government of Singapore has launched a plethora of initiatives to boost additive manufacturing, like the $200 million Innovation Cluster for Additive manufacturing and the NTU's Singapore Centre for 3D Printing.
In Singapore, 3D Bots brings to the market the best of commercial 3D printers and services. With an extensive sales and service network in Singapore and South East Asia, 3D Bots is your ideal 3D printing partner in the country.
For industrial 3D Printers capable of deliverying metal-strength end-use parts and functional prototypes
For industrial 3D Printers capable of deliverying metal-strength end-use parts and functional prototypes