Nexa 3D
Breaking Barriers in Additive Manufacturing
Who We Are
We are a team of passionate additive manufacturing practitioners that are committed to digitizing the world's supply chain sustainably.
We make the world's fastest polymer 3D printers accessible to professionals and businesses of all sizes. Our groundbreaking technology is shattering traditional 3D printing productivity barriers and opening the aperture of additive materials.
Our printers take current additive manufacturing speeds from 'dialup internet' to 'broadband' printing and are capable of continuously printing at speeds of up to 8 liters per hour. This represents up to 20x productivity gains over all current state additive products and is comparable only to injection molding economics — existing supply chain complexities, extended lead-times and the substantial costs typically associated with tooled plastics.
XIP Pro
An industrial resin 3D printer delivering the highest production throughput at the lowest cost of operation and offering the fastest print speed in its class.
NXE 400 Pro
A photopolymer 3D printer boasts a 17L build volume, delivering ultrafast speeds without compromising on accuracy or throughput.
Industrial Resin 3D Printing powered by Lubricant Sublayer Photo-curing (LSPc)

Self-Lubricating Everlast 2 Membrane Our fastest, clearest and longest lasting membrane
7K resolution with sub-pixel antialiasing for fine features and smooth surfaces
High power, collimated, 405nm LED light for edge-to-edge uniformity and accuracy across the build
Advanced thermal management for maximum curing reliability in as little as a second per layer
Why choose Nexa3D Printers
Scale On-Demand Production
With Nexa3D's breakthrough 3D printing technology, you can afford to produce parts on-demand and in the exact quantities, you need them and featuring print speeds exponentially faster than the traditional SLA and DLP-based technologies.
Accelerate Design and Development
Shorten your design cycles and get to production sooner. Increase the number of iterations for a single project, or enable your entire design team to get their prints done – all in one day. 
Create Rapid Tooling
With high temp, high pressure tolerant resins like xPEEK, xCERAMIC, and xMOLD, you easily and cost-effectively print injection molding inserts in hours for a fraction of the cost of machine tools. 
Advance Digital Dentistry
20 models in 30 minutes at 95% accuracy? It's easy with Nexa3D's high performance dental 3D printers and resins. From desktop to industrial, you've got options from chairside to the lab.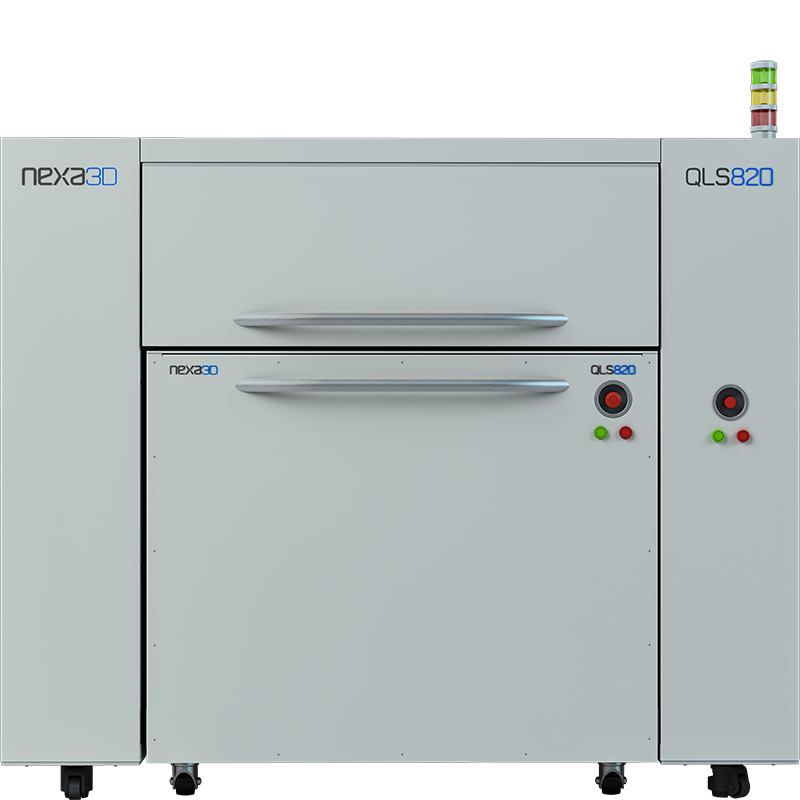 QLS 820
A thermoplastic 3D printer is a quad laser system which offers unprecedented production capabilities designed with automation and scalability in mind
QLS 230
The most affordable open platform selective laser sintering (SLS) 3D printer for industrial use to produce prototypes with mechanical and thermal properties.
High Throughput SLS 3D Printing powered by Quantum Laser Sintering (QLS)
Unmatched throughput with 24 hour cycle time
Zero waste printing with recycled powders
Open platform with over 16 validated polymer and metal materials
Outstanding part quality with strong mechanical properties and fine feature details
Clients that trust Nexa3D
Singapore 3D Printing Industry
The Singapore government allotted $500 million from the period 2013 to 2018 towards new-age manufacturing, of which 3D printing plays a major part. The first sectors to benefit from this initiative were Medicine and Aerospace.
Today, 3D printing is making an impact in the manufacturing, research, & development, healthcare and high technology industries in Singapore. World-renowned brands are making their products available in this dynamic market to boost manufacturing and prototype quality.
3DBots brings Nexa 3D printers and filaments in Singapore, Malaysia and Indonesia, complete with local support and customer care. Contact us for further info.
3DBots brings Nexa3D  3D printers and filaments in Singapore, Malaysia and Indonesia, complete with local support and customer care. Contact us for further info