Accessible Metal Powder-Bed Fusion 3D Printing
The XM200C 3D metal printer is making waves in the industry, establishing a new level of price and performance. The printer deploys fiber laser-based powder-bed fusion technology by selectively fusing thin layers of metal powder to create parts directly from a 3D-CAD model. Powered by our patented Xact Core™ high-speed gantry system, the XM200C continues to revolutionize metal 3D printing.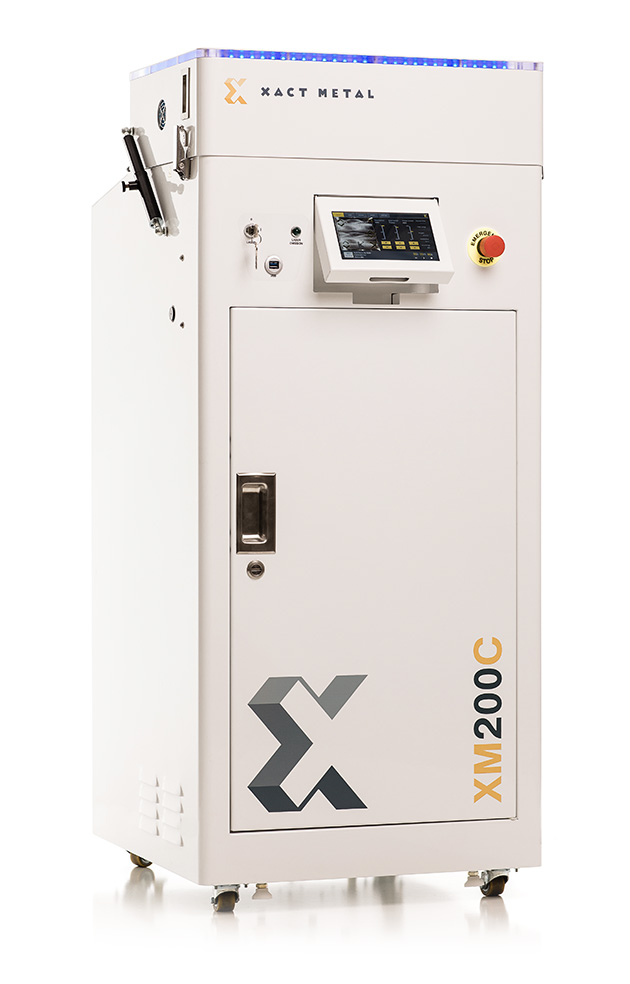 Xact Core™
Making quality metal printing accessible requires innovation. Xact Metal's printing technology is built on the patent-pending Xact Core, a high-speed gantry system platform that allows light, simple mirrors to move quickly and consistently above the powder bed on an X-Y axis.
Patent-Pending Recoater
Recoater performance can directly affect the quality of your build. Our patented recoater design offers a variety of benefits. The unique "bulb" shape of the recoating element spreads powder like a blade yet provides compaction similar to a rolling element. The compliant design allows the recoater to negotiate out-of-plane growth and continue printing.
Intuitive Touchscreen User Interface
The modern, interactive graphical user interface (GUI) for the Xact Metal 3D printers makes loading files, setting up builds and monitoring the build process quick and easy. The home screen displays real-time build monitoring with two cameras. Build queue screen provides a description of all builds to be printed.
Contact us for a FREE demo of XM200C or to talk our team of experts for more info
Contact us for a FREE demo of XM200C or to talk our team of experts for more info