MarkForged Onyx Series
Beautiful finish with revolutionary material
The Onyx 3D printers from Markforged is a brilliant product pair from the Massachusetts-based company that follows the wildly successful Mark Two and Mark X. Onyx One is a prosumer-friendly printer that prints end use parts that require minimal post print processing. Onyx One prints with Onyx, Markforged's composite filament which is a combination of nylon reinforced with micro carbon fiber.
An interesting feature is that this is a scalable printer. Markforged has taken into account customer needs and has designed the printer to be scalable to the Onyx Pro, which comes with two print heads and the capacity to print with fiberglass along with Onyx filament.

High Performance Filament
Built from ground up to print with MarkForged's Onyx chopped carbon fiber filament. This material gives the prototype a sleek carbon black finish, incredible stiffness and temperature tolerance.

Comes with the browser based Eiger 3D printing software. Eiger makes it very easy for the user to import and slice the drawing for high performance printing. It has a built-in touchscreen and is extremely simple to connect to Wi-Fi and manage the printing.

Onyx One can easily be scaled up to Onyx Pro for users who need more power and strength in their builds. The onyx Pro has two print heads and prints composites reinforced with continuous fiberglass that is about five times stronger than the Onyx filament alone.

Special Turbo Print feature that allows the user to speed up the print considerably without loss of surface quality or resolution.
Key Benefits & Applications
Onyx One & Pro are reliable desktop 3D printers for prosumers with the ability to produce good finish 3D prints for entry level makers or professionals looking to start out. With this printer, creating tough, durable and good looking prototypes just became so much easier. Engineers, designers and inventors can rely upon it to print from prototypes to finished product parts in a faster and more superior way.  Application areas include –
Custom tools & durable fixtures that are faster and cheaper to produce
Prototypes to create parts that can strong and light like Aluminium
Functional end-use parts
Educational purposes for learning and research
See video about MarkForged Onyx material review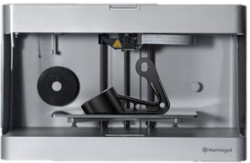 Buy the Onyx Series Printer. Start with Onyx chopped carbon fiber and step up with continuous Fiberglass
Printer Usage & Operation
The Onyx One has superior parts in a seamless integrated system of hardware, material and software, and delivers an impeccable print experience at an accessible price. It is an all-plastic printer and churns out elegant carbon black parts that need no post processing before use.
The printer is easy to operate and set up. It has a single printer head and prints exclusively with Markforged's extra strong Onyx filament that offers twice the strength and stiffness of conventionally used thermoplastic filaments and is temperature resistant up to 145°C. Parts printed with Onyx filament have a beautiful matte black finish and a unique texture.
The printer includes one kinematic print bed and comes with 800cc Onyx material and the Eiger 3D printing software. It has a build volume of 320 mm x 132 mm x 154 mm and a Z layer resolution of 100 microns. The printer can be connected via Wi-Fi, Ethernet or USB stick and runs on the advanced Eiger software.
Technical Specifications
Printing
Printing Technology: Fused Filament Fabrication (FFF) Continuous Filament Fabrication (CFF)
Maximum Build Volume (X x Y x Z): 320mm x 132mm x 154mm
Material Compatibility: Onyx & Fiberglass
Highest Layer Resolution: 100 Microns (FFF)
Extruders / Nozzles: Dual / Quick Change
Pause / Resume Prints: Yes
Mechanical
Chassis: Anodized Aluminum Unibody
Build Platform: Kinematically Coupled
Draft Blocking Enclosure: Yes
Interface: 4" Touchscreen
Software
Software: Cloud Based
Supported OS: Mac OS 10.7 Lion +, Win 7+, Linux*
Supported Files: .STL
Connectivity: WiFi, Ethernet, USB Flash Drive
Burgeoning use of industrial 3D print technology
Additive manufacturing in Singapore has several early adopters. Small and medium businesses are seeing the advantages of this method over traditional manufacturing in several sectors. Local industry watchers are of the opinion that Singapore is fast turning into a smart unmanned manufacturing hub as it moves towards technologies such as 3D printing and automation.
Singapore has several things going for it in the 3D printing space. The government recently launched the $200 million National Additive Manufacturing Innovation Cluster to help local businesses enhance their products with 3D printing. 3D Bots has an extensive sales and service network in Singapore and South East Asia, making internationally renowned industrial 3D printers accessible to all.
For a FREE demo of the MarkForged Onyx Series or other similar 3D printing machines
For a FREE demo of the MarkForged Onyx Series or other similar 3D printing machines